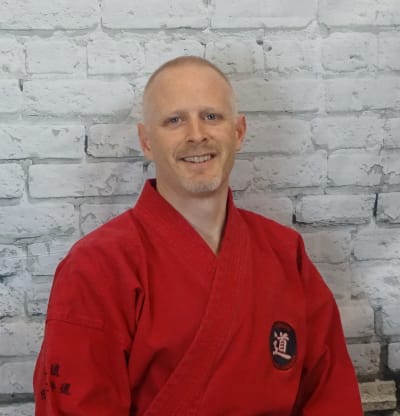 Sensei Nathan Young
Sensei Nathan Young and his wife Sarah founded the Juneau Karate Academy in 2010.
Sensei Young has been teaching karate since 1992 and is a third generation Alaskan.
He was raised and home schooled in the Baranof Island community of Port Alexander where he was first introduced to Karate by Sensei Michael Taylor of Sitka. He continued in his studies and opened a branch dojo in the small town during high school.
After completing his college studies, he led the karate dojo in Sitka for nine years. This school has been in continuous operation since 1984 and is currently operated by one of Sensei Young's former students.

Sensei Young had the unique opportunity to directly understudy with world-renowned Sensei Tanaka Katsutaka for 18 years. Sensei Tanaka, the highest ranking Shito Ryu black belt in the world, is the International Director for the Japan Kenwa Karate Association. It is very rare for a person to be able to study for a long period of time from such a high level teacher. Sensei Young continues his studies today in Okinawan karate and Kobudo (weapons) and routinely travels throughout the year to train with international level teachers. He believes that learning never ends and is constantly seeking out new training and education opportunities; this is evident in the many advanced martial arts licenses that he holds from national and world level organizations.
Sensei Young is a Fireman by trade. He served in the Fire Departments of Fairbanks, Sitka, and Juneau for 23 years. He earned a Fire Science degree from the University of Alaska Fairbanks and holds advanced international certifications for leadership and teaching in the fire service. He has served with distinction as a firefighter, medic, K9 search and rescue handler, hazmat technician, and high angel rope rescue technician and was awarded many honors for his work and leadership. He has also worked as a flight medic in Southeast Alaska and served as a certifying officer for the State of Alaska Fire Marshal's office for many years. The second part of his career was spent leading groups of firefighters as a company officer and chief officer.
He views his calling of leading others as a privilege and honor and works tirelessly to inspire those around him and help them reach their goals and potential.

He and his wife Sarah, also a long time karate instructor and our school's director, are raising up their three children. They are active in their Christian church and love spending time homeschooling, working outdoors and helping their friends in the community.
Sensei Young's favorite push up is the clapping push up.