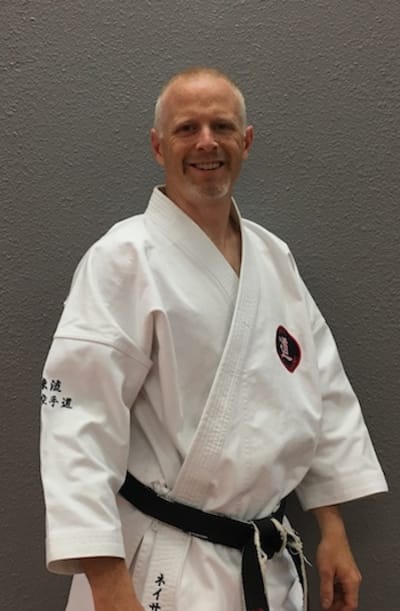 Sensei Nathan Young
Sensei Young was born and raised in Southeast Alaska and has been teaching karate since 1992. He was raised and home schooled in the Baranof Island community of Port Alexander where he was first introduced to Shito Ryu Karate by Sensei Michael Taylor of Sitka. He continued in his studies, opening up a branch dojo in the small town during high school. After earning a degree from the University of Alaska Fairbanks, he started a family in Sitka. In 2001 he took over as the chief instructor of Kenwa Kai Karate of Sitka from Sensei Taylor; this school, still in operation, has been open continuously since 1984.

Sensei Young was ranked in the Japan Kenwa Karate Association by World Renowned Karate Master Shihan Katsutaka Tanaka. Sensei Young understudyed from Shihan Tanaka for 18 years. Shihan Tanaka, the highest ranked black belt in the world, is the International Director for the Japan Kenwa Karate Association.

Sensei Young also holds advanced black belt licenses from several national and world level organizations.

After moving to Juneau in 2009, Sensei Young established and formed the Juneau Karate Academy with the help of several former students from the Sitka dojo.

He lives in Juneau with his wife Sarah, also a long time karate instructor, and their three children. Their faith in God is the center of their lives and is the foundation for all that they do.